Experience the Christian Louboutin Lipstick
Christian Louboutin established in 1992 has introduced some of the most amazing looking shoes some of which I personally own. Now that they have expanded into the makeup and perfume industry I want to share with you my personal experience on visiting one of their boutiques here in Paris.
But, before I continue, let me tell you a little about the history behind these products. In 2013, Christian Louboutin set up a joint venture with New York based Bataullure. Through this partnership he introduced his nail polishes for $50 a bottle. That venture turned out to be such a huge success for the family owned business they decided to expand into lipsticks.
The Christian Louboutin Beauté was so successful, a year later they introduced 38 lipsticks. By 2016, the famous lipstick Loubilaque and a number of fragrances were also introduced. They knew they had a winner, so they continued to provide new products to the market Last year was the makeup collection for eyes including their liquid-pigmented eyeliner and mascara at $75 and $70 respectively.
Since their international expansion into Milan they have signed a licensing agreement with Spain's Puig. Puig's beauty brand includes licensed brands such as Carolina Herrera, Paco Rabanne, Prada and Valentino to name a few. This will definitely make them more visible throughout the world and bring a huge success for this brand.
So, now that you know a little history behind the Christian Louboutin brand, let's get back to my experience last week. I stumbled upon one of their stores by chance. Hidden away in one of the many passage in Paris it is located at the end or beginning of the passage depending on which way you enter.
Anyway, this particular boutique only caters to the Christian Loubton Beauté brand of makeup and fragrances. When you first walk in, the walls have on display single bottles of their fragrances.
You walk further down and enter the world of makeup. To your left are the nail polishes and to your right are the lipsticks and eyeliners.
When they first introduced their ornament lipstick they only offered a red or pink color option. But, as you can see they have expanded to now offer a numerous array of other colors all my favorite of course. After trying out various samples, I decided upon "you you". So far, I am extremely pleased with the choice and plan on returning back for more colors to add to my collection.
If you are in Paris, definitely stop on by and sample the wonderful fragrances or lipsticks. You will not be disappointed in any of the choices. Happy shopping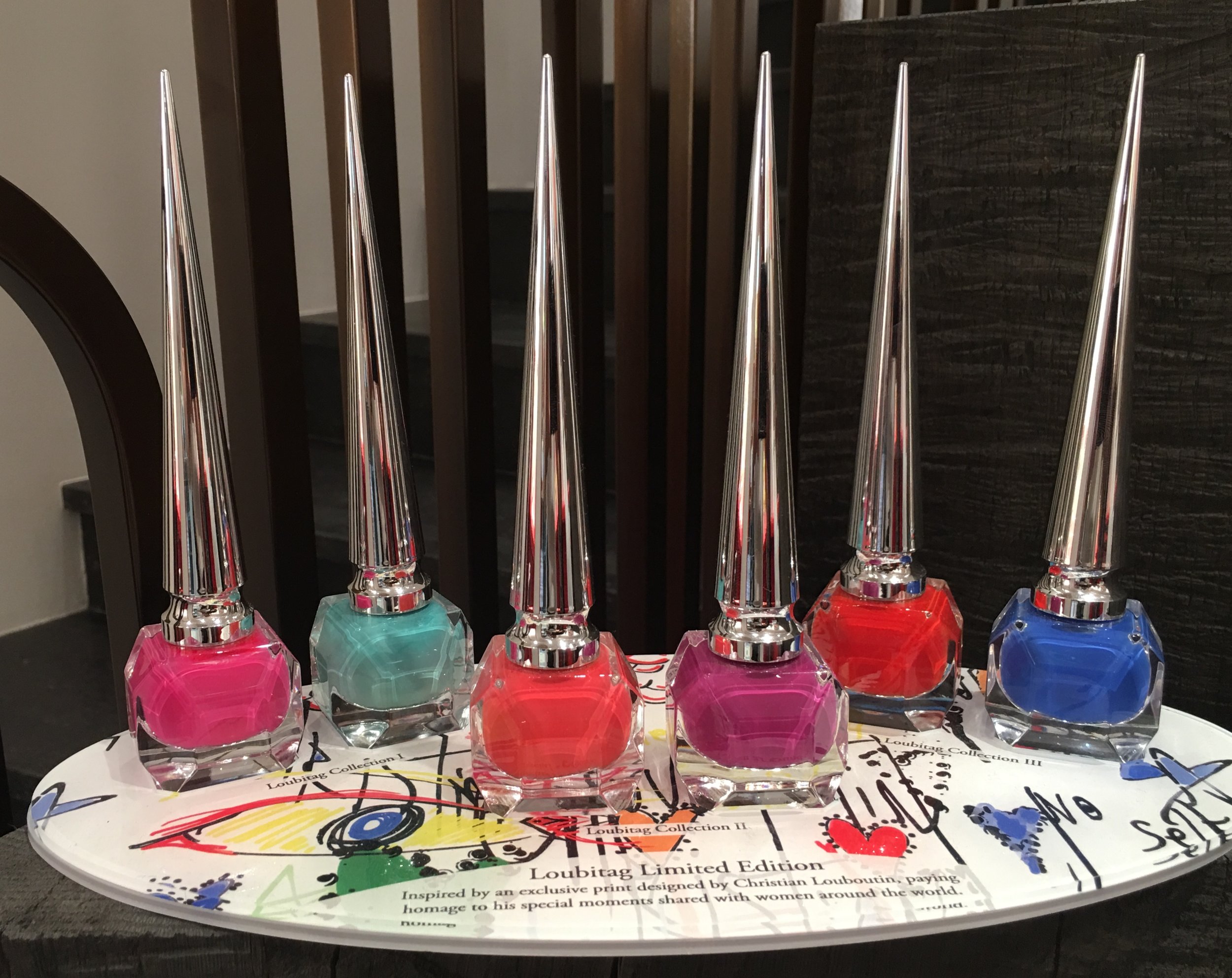 Once the transaction was completed I ventured outside the boutique and little did I know their shoe store was actually next door. Of course I was not surprised by this turn of events as this makes perfect sense. The boutique had the most beautiful display of shoes to entice you into at least venturing inside to peruse their display even if you did not buy a single pair.
This afternoon I did not have enough time to stop and venture too long in the store, but I have my eye on a few styles that would be perfect for the summer. I just have to make sure to return soon Until we meet again I will dream of these beautiful blue and yellow sandles which would be a perfect addition to my summer wardrobe.
What is your favorite Christian Louboutin product?